FROM $58 PER WEEK*, IT'S EASIER AND MORE AFFORDABLE THAN YOU THINK TO GET THE SMILE YOU'VE ALWAYS WANTED.
* Based on initial deposit and 24month payment period
HOW MUCH DOES INVISALIGN IN COST?
The cost of Invisalign in Auckland versus the cost of Invisalign in Hamilton is actually fairly similar. There are three key factors to keep in mind:
The complexity of your case and the duration of your treatment will influence the overall fee. Invisalign offers four different products, each with identical processes and aligners. However, the number of aligners required during the course of treatment may vary, depending on the complexity of your case.

The experience of the clinician plays a role. Dentists or orthodontists who handle a higher volume of Invisalign cases annually often have more negotiating power with Invisalign. Consequently, they may be able to offer lower costs compared to those who handle fewer cases.


It's important to consider any additional fees that may be involved. Some practices may provide an initial fee estimate for treatment but could also charge extra for records, additional aligners, or retainers.
For affordable and high-quality Invisalign treatment in Auckland or Hamilton, get in touch today. I will provide you with a comprehensive evaluation and transparent pricing, ensuring you receive the best possible care for your smile.
The Invisalign cost in Auckland varies and is determined by the specific needs and complexity of your case. However, here's some great news: if you have minor adjustments needed for your teeth, Invisalign Lite offers an affordable solution to help you achieve your perfect smile.
I understand the importance of providing cost-effective options without compromising on quality. The Invisalign Lite treatment is designed to address milder orthodontic concerns while making the process more budget-friendly for our patients.
Don't let cost be a barrier to achieving the smile you've always wanted. Book a consultation and discover how Invisalign can help transform your smile at a price that fits your budget. I'm here to guide you through the process and ensure you receive exceptional Invisalign treatment in Auckland without breaking the bank.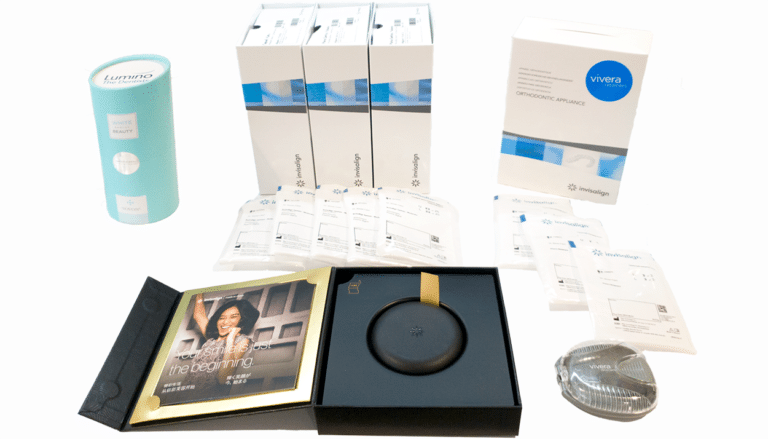 Your Invisalign Aligners From Start To Finish
All records including x-rays and photos as required for your case. Digital scans rather than traditional impressions are taken for greater comfort and accuracy.

Your digital Clincheck

All aligners

All review appointments during treatment.

Refinement aligners – once you have finished your aligners, we will review the result achieved together and if improvements can be made, or if particular teeth have proven to be stubborn, we will make additional refinement aligners to complete the final movements needed.
Vivera Retainers
Vivera retainers are 30% stronger than competitor brands allowing for greater durability and better long-term retention. Vivera retainers are provided as a set of three, so you always have a spare in case you lose one.
Home Whitening.
A home whitening kit will be provided at the end of treatment to lighten your teeth and perfect the final result. Note that brand and whitening packaging may change from time to time or between practices.
As a Diamond Partner, I offer exclusive savings that are passed on to my valued clients. You'll be pleasantly surprised at how affordable the Invisalign cost in my Auckland and Hamilton clinics can be.
To make getting your perfect smile even more accessible, I offer flexible payment options. With Q Card, you can conveniently pay off your Invisalign treatment in manageable instalments over 24 months, completely interest-free. This means you can achieve the smile you've always dreamed of without any financial burdens.
Don't let cost stand in the way of your confident smile. Get in touch today for Invisalign treatment in Auckland and take advantage of our affordable prices and convenient payment plans. Let me help you achieve a beautiful, straight smile that will enhance your self-confidence and transform your life.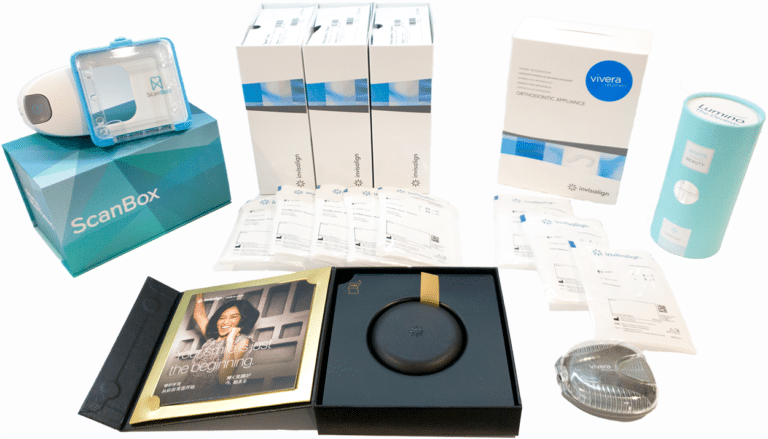 Your Invisalign Aligners From Start To Finish
All records including x-rays and photos as required for your case. Digital scans rather than traditional impressions are taken for greater comfort and accuracy.

Your digital Clincheck

All aligners

All review appointments during treatment.

Refinement aligners – at the conclusion of your aligner treatment, we will carefully evaluate the results together. If there are any areas that require further enhancements or if certain teeth need additional adjustments, we offer refinement aligners. These customised aligners address specific concerns, ensuring that all the final movements needed for your perfect smile are completed with precision and thoroughness.
Dental Monitoring
Dental Monitoring is the world's first dynamic aligner tracking system that allows us to virtually track the progress of your treatment. Every week before your aligner change, you use the scan box and your smart phone to scan your teeth – the images are uploaded to the cloud where it is analysed by proprietary software and reviewed by Dr Casci. Feedback can also be given, and questions asked via the DM app. Dental Monitoring allows for fewer clinic visits, better aligner fit and optimised aligner changes.
Vivera Retainers.
Vivera retainers are exceptionally strong, boasting 30% more durability compared to other brands. This strength ensures better long-term retention, keeping your teeth in their ideal positions. To provide you with added convenience and peace of mind, we supply Vivera retainers as a set of three. This means you'll always have a spare retainer available, even if one gets misplaced or damaged.
Home Whitening.
At the completion of your treatment, you'll be provided with a home whitening kit to enhance the final result and brighten your smile. This kit is designed to lighten your teeth, giving you the perfect finishing touch. The specific brand and packaging of the whitening kit may vary periodically. Rest assured, high-quality whitening products are always provided to ensure you achieve the best possible outcome for a radiant smile.
INTEREST FREE
OVER 18 MONTHS WITH Q-CARD*
*T&Cs as well as normal lending criteria apply
PAY  
UPFRONT
AND RECEIVE A 5% DISCOUNT
PAY AS YOU GO
PAY A DEPOSIT + EASY INSTALLMENTS
*Over the course of your treatment
YOUR FIRST CONSULTATION IS FREE
Take advantage of a free initial consultation to learn more about the options available for your Invisalign journey.